Play Ball Lines HTML5 Game Instruction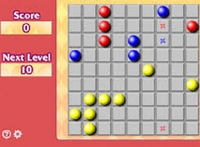 Ball lines is a Logic game that is very much loved.
Your main task in the online game is to destroy the balls of the same color as the ball you have on hand by moving the balls to form lines of five or more balls of the same color. You need to gather 5 or more balls and you can break them, all contained things disappear from the screen and you will receive bonus points. The lines can be horizontal, vertical or diagonal. With every move, appear three new balls, so you'll have to be both fast and efficient.