Play Defly.io HTML5 Game Instruction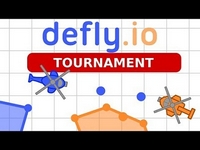 Defly.io is an excellent and exciting .io game with a unique twist that sets it apart from other titles. In this game, you fly a helicopter and shoot other players. You can also build towers and walls on the map to mark your territory. By marking a more significant territory and shooting other helis, you can earn experience points
Build walls to protect yourself and conquer as much land as possible. Fill areas to level up, upgrade your aircraft and buildings. Use awesome superpowers to defeat your enemies!