Play Frizzle Fraz HTML5 Game Instruction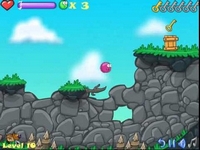 Frizzle Fraz is a fun game for people of all ages with simple graphic design.
Your mission in the Frizzle Fraz game is very incredibly easy and straightforward; you need to control the frizzle up and down by arrow keys to rescue as many trapped frizzles and guide them to the exit. Collect creatures and 5 keys in this adorable game before going out. Do not go near devils and sharks, avoiding your opponents, which are the nasties. There are also multiple new levels for you to play. On each level, you must reach the door with as many coins, and frizzy creates that you can to collect the most points.