Play Gem Swap 2 HTML5 Game Instruction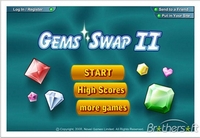 Gem Swap 2 is a game require to coordinate your brain and clicking speed.
The way to play the game Gem Swap 2 is straightforward, Your mission in the Gem Swap 2 game is to matches and swap gems in a single line to three or more flowers that to destroy gems you will gain points as they vanish. Use mouse to Swap Gems, either vertically or horizontal. You will earn points when arranged all the flowers in the right or correct formation, enough points that will move you to the next level. The game has many levels, and each level you will be faced with a more challenging task. You will also have to beat the time to advance to the next level.