Play Max Fury Death Racer HTML5 Game Instruction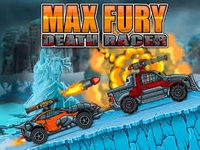 Max Fury Death Race is one of the most attractive racing games. It is a combination of racing, motorcycle challenges, and shooting games and is inspired by the movie Max Fury. Come to the game to feel the speed and prepare for a challenge full of armed obstacles and many shots. Your task is to drive the tiny car as fast as possible, take other riders, make flips, collect furniture and earn lots of money to upgrade. Try to destroy and overcome all opponents while you fight to survive after their powerful attacks. Gather the money needed to buy new improvements for your vehicle and buy a new car, which will be much stronger to become the king of the road. The game will offer 4 series of 5 races with an iconic character to beat at the end of each series. Of course, it will be possible to improve your car and also buy 8 different cars.
The interesting point in this game is that your vehicle is equipped with guns. You can use it to shoot at your opponent. Besides, you also have a Nitro bar. When the Nitro bar is full, you can use it to accelerate. However, you need to flip to increase this nitro bar. Besides this game has simple graphics, suitable for all ages, especially children and families. You can experience this game on your browser as this is a flash game.