Play Papa's Pancakeria HTML5 Game Instruction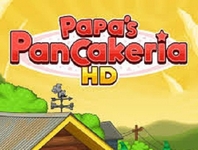 Welcome to Papa's Pancakeria, Maple Mountain's best and only pancake shop! Your mischievous pet escaped during your trip and guessed who found it? Papa Louie! He immediately makes you a curious offer. Papa Louie needs to head out of town, and you are to take care of his shop in his absence.
Get ready to flip and stack tall orders of pancakes, waffles, and french toast. You'll have something to look forward to at the end of each day because your newest friend, The Great Foodini, has some crazy mini-games for you to play. Ofcourse the various upgrades are available again, allowing the player to upgrade the restaurant with fun additions.