Play Papa's Pizzeria HTML5 Game Instruction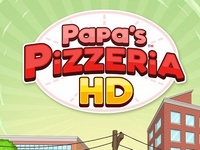 When Papa Louie runs off on another adventure, Delivery Boy Roy is left in charge of Papa's Pizzeria. Unfortunately for Roy, the customers are used to Papa Louie's style of fully custom pizzas. Whether it is 8 pepperonis everywhere and 2 olives on the lower half, or a 10 onion pizza cooked well done and cut in 4 slices, there is no telling what they will come up with. So master the 4 stations and work up the ranks to be the best Pizza Chef around!
Get ready to knead the dough, grate the cheese and spread delicious tomato sauce all over the baked pizza crust! In Papa's Pizzeria, you'll become the chef with the best pizzas in the town. Put a smile the faces of your customers as you write up orders and step into the kitchen to prepare them. Time to cook everybody's favourite food!