Play Papa's Scooperia HTML5 Game Instruction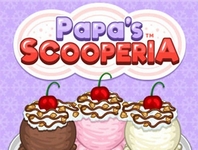 Papa's Scooperia is a fantastic restaurant management game in the Papa Louie series from Flipline. In the game, you have to start and manage an ice-cream shop and make kids and adults happy with delicious ice-creams.
Bake yummy cookies for the treats, scoop ice cream in the flavours that each customer loves and sprinkle toppings over a heaping serving of fudge or whipped cream. Manage your time to rack up tips to make your customers happy. Watch for picky customers.