Play Papas Hot Doggeria HTML5 Game Instruction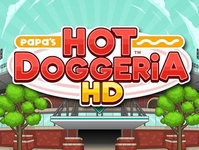 Description
:
Papas Hot Doggeria is to manage Papa's hot dog stand at the baseball park! Located inside the food court, you will serve customers in between innings. Take orders, grill hot dogs, and add toppings to complete each meal. Help Taylor and Peggy satisfy every patron at the ballpark!
Grill and serve hot dogs and other stadium snacks in Papa's Hot Doggeria! You've got the best seat in the house at Griller Stadium, which happens to be behind the counter at the hot dog stand. You'll need to grill dogs and sausages, add toppings and condiments, pour drinks, and pop popcorn for all of the fans at the game!
It's opening day at Griller Stadium but the season tickets are all sold out! It looks like the only way to watch the games is to work for your old pal Papa Louie.