Play Ayo The Hero HTML5 Game Instruction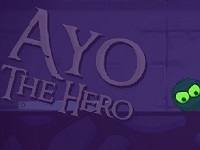 Ayo the Hero is a fabulous fun game. The magical sphere is stolen. The leading character in Ayo, the Hero game, is Ayo. Your mission is to help Ayo make his way through each level to find the magic sphere of life.
This game filled with dangerous obstacles, green enemies, and never-ending labyrinths. Discover how to survive the journey and bring the source of life back to your kingdom.
Use the arrow keys to control the hero evade enemies, push crates, solve puzzles, and collect keys as you roll past enemies and avoiding obstacles, traps.