Play Bubble Tanks Tower Defense HTML5 Game Instruction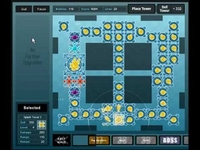 Bubble Tanks Tower Defense takes Hero's popular series into new genres and beyond! With 7 enemy types, over 11 unique tower paths, tower merging allowing for mega towers and mega-mega towers and 52 whopping game modes, we're pretty sure you'll have plenty to keep you busy.
Fire bubbles at the invading tanks in this traditional but fun tower defense game. Use the mouse to build new towers, upgrade existing ones and select different targeting options. Build bubble tank towers and arrange them strategically to keep the enemy from getting to the exit of each map. Use your winnings to purchase upgrades for a better defense.