Play Bug Match HTML5 Game Instruction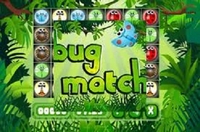 Bug Match is a simple match-3 game that can be interesting for all ages. The game is score-based and doesn't have different levels. Instead, you have to do your best to earn as much score as you can during 60 seconds. But don't worry, you will earn additional seconds as you match tiles. The faster you match, the more time you will earn.
Line up three or more bugs in a row or column to delete them and turn the background on those squares to white. Complete the level by getting the entire game area white. To line up three or more bugs, click two bugs next to each other to switch their spots.