Play Daily Mahjong HTML5 Game Instruction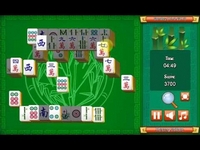 Daily Mahjong is a fun game to spend time. Your task is to remove all the tiles from the board. You must remove the same tiles one by one, and only from the top layer. The faster you finish the game, the more score bonus will be received. Every game is unique as piece location will be randomized. Track your progress daily and get better on this game.
Indeed, an opportunity to create new levels appeared so popular among users, that we have received hundreds of unique mahjong boards. So, we selected the best mahjong puzzles submitted so far to offer you this online daily game. Let relaxing music sweep you away, and reflective tile matching gameplay bring a moment of calm to your daily haste. Have a sneak peek a tomorrow's mahjong solitaire with one of our newest flash games free online.