Play Doctor Acorn 2 HTML5 Game Instruction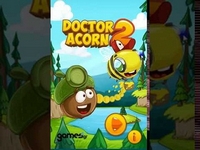 Doctor Acorn 2 is one of the fun entertainment games; it is an exciting playground.
A disease that is happening in the deep forest, and the infected animals have not found the medicine to cure; they are very dangerous.
Your task in the Doctor Acorn 2 game is with the chestnut doctor to find and collect medicine to cure the animals in the forest.
You will go through a puzzle world: fly on bees, jump from cloud to cloud, collect all the stars from overcoming obstacles and difficulties encountered along the way. Try to grab all three stars at each level and exit through the portal at the bottom.