Play Cut the Buttons HTML5 Game Instruction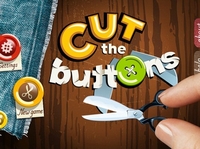 Play Cut the Button Logic Puzzle for FREE! In Cut the Button Logic Puzzle, you have to move the position of a colour button to line it with 2 buttons with a similar colour. Align all the buttons with clearing the fabric and winning the level. If you're brainy and you love brain exercise, you'll love our line puzzle. There are over 600 levels in this colourful button game, so you'll have plenty of challenges to train your brain while having fun.
Cut 2 or more same colored buttons in a horizontal, vertical, or diagonal line.
Make sure all of the buttons are the same colour.
The goal is to remove all buttons from the game board.