Play Doctor Acorn 3 HTML5 Game Instruction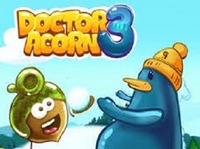 Doctor Acorn 3 is an adventure game exciting and attractive. It is physics-based gameplay.
In the Doctor Acorn 3 game, your task is to help penguin brothers to make a snowman, control and move the real character skillfully, avoid colliding with obstacles.
Solve puzzles and throw snowballs to the target to open floors and move large snowmen. Get all the giant snowballs through each level safely and efficiently. Shooting and destroying bees, avoid dangerous boars, hit boars with acorns white snowballs, gathering enough 3 stars at each level and create snowmen to pass the test.
There is 15 level in this game. Collect all the hidden stars along the way.