Play Doctor Acorn HTML5 Game Instruction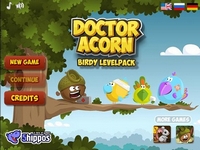 Doctor Acorn is a fun, adventurous game.
During a visit, Doctor Acorn had an accident and was blown away that fell from the tree to the ground. You join the adventure to find a way to get the Acorn Doctor through the dangerous challenges across. Your mission in this game is to help Acorn figure out to solve many physics-based puzzles and lead Doctor Acorn to the checkpoint on every level. To move on in your adventure, let's cut ropes, click on buttons, springs, trampolines, to collect all the stars. Overcome all levels with 3 stars.