Play Swords and Sandals 4 HTML5 Game Instruction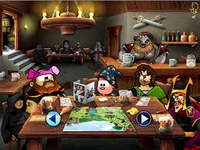 Swords and Sandals 4 will take players into a more dangerous world where you will have to create a heroic gladiator character and choose different features like height, hair, character name and muscle type. You can also choose one of four different classes – fighter, paladin, shaman and bard – each with different stats and abilities. Finally, you can choose your character Start indicators like vitality, strength and agility.
When your character is ready, you can start playing the game. In each game, you have to roll the dice to advance on the board. On each board space, you will have different challenges and mini-games. There are exciting mini-game challenges, battles with other characters and also situations that are solved by dice throwing. Players will be challenged with 70 levels and beyond, 23 minigames and 23 arena championships are unlocked. Are you ready to come to the game or not?