Play Dino Shift 2 HTML5 Game Instruction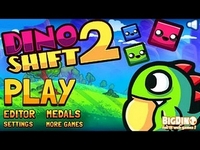 Description
:
Dino Shift 2 is an addictive game with colorful 2D graphics and unusual challenges.
Your mission in the Dino Shift 2 game is to help the cute Dino to unlock the level's exit by collecting blocks of the same color as fast as possible without dying.
At each level, you need to destroy a certain number of cubes to complete. The cubes come in three different colors, change color by using z,x, and c to pop same-colored blocks
Dino Shift 2 has 30 different levels. You will earn stars when the end of the level. The fewer the time you spend on a level, the more stars will receive.