Play Slope Game HTML5 Game Instruction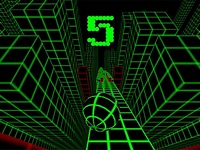 Description
:
Slope game is the ultimate running game that will put your skills to the test. This game has unique 3D graphics, suitable for all ages, especially children and families. You can experience this game on your browser because it is a flash game. Slope game has simple gameplay, but its challenges are not simple. In the game, you control an auto-running ball in a large space 3D map.
This game has a physical element, so you need to control the ball carefully. The challenge for you in this game is the complex terrain. You will have to run on very narrow roads, with only a small mistake that the ball will fall into the abyss. Also, red blocks that are your "enemy". If you hit them, you lose immediately. The interesting point in this game is that you can control the speed of the ball. However, in this game, there will be holes, and you have to run fast to overcome it.
Forget about all the endless-running games you've ever played; Slope game is a challenge for you. Speed down on a randomized slope. The farther you go, the faster your ball travels. This game might look simple, but playing this will give you an extreme adrenaline rush. Just remember to avoid obstacles and those red blocks. Always be on track to get a high score, and you might have your name on the leaderboard! Slope game
Tips and Tricks:
- Try to run far to get the highest score and get top 1 on the leaderboard.
- Look ahead to the terrain to choose the location that is best for you.
- You can play this game in full-screen mode.
- Avoid red blocks on the way.