Play Grindcraft HTML5 Game Instruction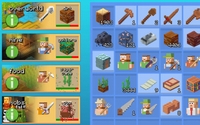 Description
:
GrindCraft is an attractive Minecraft online clicker game that is loved by many people, where everything is presented in 2D. Get ready for some hard and really rough work. Your job is to cut down on tinder and exploit other useful things as you manage your resources to create new items in this awesome clicker game. Choose an element from the Minecraft world and produce it and then produce different materials with the element you have in your inventory. Combine resources to create the full range of Minecraft materials, tools and structures.
Players try to collect all kinds of resources. The more tools you manage to manufacture, the more resources you can exploit. Exploit wood, coal, stone, iron ore, and more. Kill slimes, skeletons and animals to collect feathers, bones and hide animals. Can you collect all the items you need to complete each list and move to the next environment? Discover all the exciting Minecraft items you can craft.
GrindCraft is a game for anyone who wants to include boys and girls, kids or adults, this game is for you. The game comes with lots of great features and graphics that make Grindcraft seamless and easy to play. There's an interesting song playing in the background when you start the game, which can also help you focus on the task at hand. So don't waste any more time and let this great new creative game.