Play Into Space 3 HTML5 Game Instruction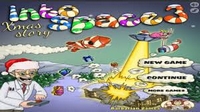 Description
:
Into Space 3 – Your task will be to get as high as possible and collect various accessories. Gradually you will be able to buy more upgrades and reach the destination.
Aliens have stolen Santa's gifts and scattered them into space. Control and upgrade your spaceship and get back the presents!
You will need to venture into space to collect 1000 lost presents and a large number of different candies in the air. Besides them, you will have the opportunity to meet even Santa Claus and his lost big presents and candy bags – collecting them will save you a lot of time on your route.
Build a rocket and launch it into space. Collect gifts and fire biscuits to unlock and buy new upgrades for your spaceship and refuel during the flight. Complete various missions as you enjoy Christmas pictures.
Don't forget to collect gas for your rocket engine, after all, you'll have to reach really high heights to collect all the gifts. And if you see aliens stealing gifts, don't hesitate to destroy them.