Play Papas Wingeria HTML5 Game Instruction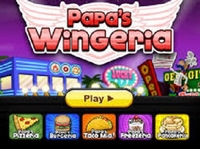 Description
:
Papas Wingeria is an attraction of Starlight City, and Papa Louie's delicious chicken wings have garnered the most fame.
In Papa's Wingeria game you will play the famous chefs like Chuck, Mandi,… Your task in the game is to get the order from the customer and serve them the meal they want.
Prepare their chicken wings correctly, cook the wings carefully, and dip them into delicious sauces. Prepare the dips and slice the vegetables.
Fix the food correctly and at the correct time and give it to the customer. If you make a delicious chicken wing that customer satisfied, you make money!