Play Paper.io HTML5 Game Instruction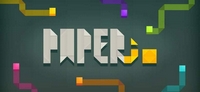 Description
:
Paper.io conquered so many territories to become the leader in this exciting multiplayer game. At first you and the other players were given a small territory. The game was simple because at first The game is easy to handle but then a little harder to master.You are brave or careful, fooling your opponents by figuring out the best strategy to conquer the biggest space while defending your territory. You because in this game you do not own territory completely.
Expand your territory by controlling the snake character, have it move around the space and end up in your territory, at which time you will have more territory. Conquer enemy lands by moving into their lands and making the main area of ​​your land bigger. Try to make your land bigger carefully and become the leader.
You can kill enemies by touching their bodies, and when you are touched by other people or yourself, you will be destroyed.
Your character is a snake that constantly moves forward, you need to orient it.
The first game will be easy to control but then it will be more difficult.