Play Evowars.io HTML5 Game Instruction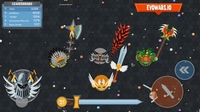 Description
:
EvoWars.io is an exciting multiplayer io game set in an epic fantasy world. Fight and survive to become the greatest warrior of this online arena.
In the new EvoWars.io multiplayer game, we will be transported to the medieval world. In it you start from a simple farmer equipped with a normal stick and then become a knight. To do this, you will need to go around the locations and collect resources to level up. Because other people are playing with you, you will also meet their characters. If they are at your level or weaker than you, then you will be able to attack them and deal damage. But you can also get closer to a stronger character, try to stay away from them if you don't want to lose your life.
Move quickly on the map and try to eat a lot of glowing energy. Avoid swords from other players' swords while killing as many opponents as possible. For each enemy, you deal damage or kill, the length of your sword increases, thus allowing you to eliminate more deaths and destruction.
Remember that size matters, but it is not the most important. The big giants are often knocked down by the swords of small and nimble warriors. Can you dominate EvoWars.io and become a giant killer with the largest sword in the land.