Play Super Drift 3D HTML5 Game Instruction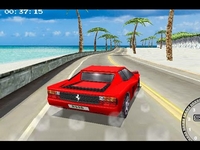 Description
:
You are a speed enthusiast and love the peak art drift, so this will be an extremely attractive game that you cannot ignore. In Super Drift 3D, you will have to control a Supercar perform the art drift phase to be able to score the highest score.
Play Super Drift 3D game with the speed competition designed in a unique style that will bring players moments of relaxation so fun and exciting. Demonstrating many new features compared to the previous classic car racing game in terms of both visual and gameplay will always create each lively and attractive tournament so that players can unleash their conquering skills.
Super Drift 3D racing game always clearly shows its characteristics in front of a series of new racing games today through each highly competitive competition. Your task in Super Drift 3D is to control your car to the finish line and perform the state of the art Drift climax to score points. The more points you get, the bigger you get. Use the money you earn to buy new supercars.
Start uniquely participating in speed battles in this free game for Super Drift 3D and show your ability to conquer speed when defeating rivals to become a champion.