Play King Of Shapes HTML5 Game Instruction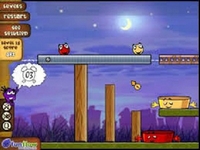 The King of Shapes enjoys bantering his servants… help him out in this brand new physics puzzle game! First, place the objects to keep the servants above the line then remove the same objects to make the servants fall into basins! You can remove only the wooden shapes.
A excellent building game, the King of Shapes, likes to help his subjects build structures that will help them get above the dashed line… Then, you need to figure out how to drop them into their matching buckets. Then click to remove blocks to help shapes to match colour basins.