Play Papa's Sushiria HTML5 Game Instruction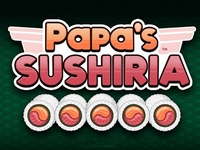 We're going to Papa's Sushiria to create bite-sized deliciousness! Your day takes a turn for the worse when you break Papa Louie's lucky cat statue. Is this to blame for the restaurant's underwhelming opening day? All we know is that Papa Louie left on a wild-eyed mission and you're now stuck running the restaurant. Can you turn your luck around and master the fine art of sushi making?
The perfect combination of nori, rice, and many other tasty ingredients, sushi is the most popular food among the people of Sakura Bay! Sharpen your knife and get ready to slice sushi rolls filled with mouth-watering condiments! A serving of freshly rolled sushi and a glass of bubble tea is the perfect meal! With orders as diverse as your customers, are you up for the challenge the guests in your shop are about the service you?