Play Tomb Runner 2 HTML5 Game Instruction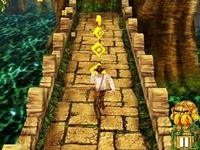 Tomb runner 2 game is the second version of the legendary running game Tomb Runner. The storyline in this version is that you will play the role of one of the 4 archaeological characters to study the temple. Unfortunately, you touch a treasure in the temple and are chased by the monsters in the temple.
Your journey starts from here you will try to run as far as possible to avoid being eaten by that monster. However, the track is not easy to go, there are obstacles to force you to jump over. The walls create the path that requires you to redirect in time to not fall into the pool or crash into the wall, the branches of the tree cross you. You need to bow or swing. You just need to use 4 left and right buttons to overcome the challenges of the game. Swipe your finger to the side to adjust the character to turn to the turn. Then, swipe up to jump up, swipe down to help the character bow or dive deep into the water as you swim in the rivers.