Play Color World Origins HTML5 Game Instruction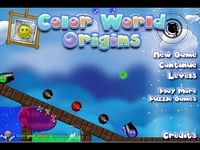 Once again you can kill some time with the addictive Color World Origins! It might seem simple at first, but you'll find yourself soon wondering how to get to the next level! Make the color of the boxes match that of the character inside them using the fluffy balls in your cannon: the less you have to shoot, the higher the score! Teleporters, trolley carts, and gravity wells will have you scratch your head as you try to figure out a way to beat the game!
Can you do it in the fewest cannon shots as possible? Things aren't as simple as they seem, Teleporters, Gravity Wells, and Trolley Carts make your job more difficult!