Play Doctor Acorn Level Pack HTML5 Game Instruction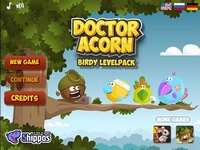 Doctor Acorn Level Pack – Swipe your mouse to cut ropes, click on buttons, collect medicine, and more. Your goal is to get Doctor Acorn through each level safely. Watch out for traps!
Doctor Acorn is ready for a new journey to save the birdies! Guide him through the forest, activating buttons, cutting ropes and avoiding spikes. Remember to pick up the hidden pills to heal the birdies and get the doctor safely back home!
Use your mouse to control the objects, click on the pills to collect them.