Play Jelly Truck 2 HTML5 Game Instruction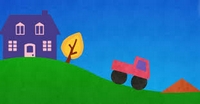 Description
:
Jelly Truck 2 is great driving game. Join game Jelly Truck 2 to experience the feeling of driving a car in the rubber world to transport goods and safely finish the destination. Get behind the wheel and try to reach the end of each level! Everything in this world has been made out of rubber, which can make it quite difficult to overcome certain obstacles.
With the context in the rubber world, everything around them is resilient and elastic, everything is rubber, so when the car is turned upside down, so it doesn't really matter, Because of the high likelihood that you will return to the wheel. Every collision is gentle and every time you jump off the ground.
Your task in the game Jelly Truck 2 is to control your Jelly truck overcome all obstacles to complete each level. Begin your journey, cross the roads of the toughest and most rugged terrain. Try to control the vehicle so that no small bumps on the road occur. You will have to roll and wriggle through many obstacles along the way. Everything is made of rubber, so this truck driving game is quite difficult. This wiggle is pretty hard to drive, so drive carefully and get to your destination as quickly as possible. The game has 20 levels to complete.