Play Moto X3M 2 HTML5 Game Instruction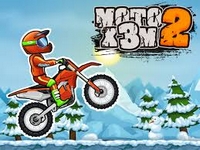 Description
:
Moto X3M 2 is a very interesting and exciting motorbike racing game. The task of the player is to control the motorbike to overcome difficult and complex terrain in the snowy white winter scene or the pages. Fanciful christmas decorations, fairy game The game gives players new challenges, you will be jumping over very dangerous obstacles such as things like helicopters or large sawtooth. deal with uneven terrain and crazy obstacles, turn upside down in a doll-style game, perform the craziest, most dangerous moves and stunts that will help to win Win the car to the finish line as fast as possible and unlock new levels
The moto game brings chaos as you run down the hill and control your engine to climb the toughest challenges on your way to success. Race and become the greatest racer ever and beat your friends, you will be able to handle the unique explosions and obstacles that each level offers.
The game has over 150 stunning levels full of challenges, vehicles that can be unlocked for upgrades, a checker game and a user-selected control scheme.