Play Earn to die 2012 part 2 HTML5 Game Instruction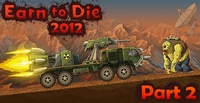 Description
:
Earn to Die 2012 Part 2 is a new installment in the popular Earn to Die series. Driving straight to the finish line and crushing everything on the road is, of course, a bunch of obnoxious undead. Unlock and upgrade." Means to drive farther through hordes of zombies on the road.
Earn to Die 2012 Part 2 takes you on a killing journey through a zombie country. You are still surrounded by wicked corpses looking for fresh flesh of man. Hop on your four-wheel drive, buckle up and drive as far as you can from a series of bloodthirsty zombies.
What do you use to wash zombie blood from the windshield? Of course more zombie blood. Across the western United States, toss immortal wanderers all over your sweet wheel. Just remember the liquid that washes your windshield. Collect money to upgrade your vehicle and unlock new ones along the way. You will only be able to reach the final exit point with the truck fully loaded and use your acceleration options wisely.
Earn to Die 2012 Part 2 allows you to experiment and plan earlier with trying to perform stunts while you drive. Especially with each area, you have to start upgrading from the beginning with a new car. You will be able to your destination alive, or you will be subdued before the zombie apocalypse.