Play Top Shootout The Pirate Ship HTML5 Game Instruction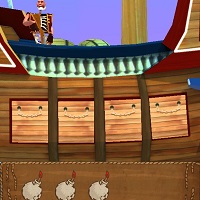 Description
:
Top Shootout The Pirate Ship is a thrilling shooting game that takes you on a high seas adventure. In this game, you play as a pirate who must fight off other pirates and their ships to claim treasure and become the top pirate on the high seas.
To play Top Shootout The Pirate Ship, use the arrow keys or WASD to move your character and aim with your mouse. Use the left mouse button to shoot your weapon and the right mouse button to reload.
As you progress through the levels, you'll encounter other pirates and their ships, each with their own strengths and weaknesses. Be sure to collect power-ups to boost your weapons and increase your chances of success.
The game features multiple levels, each with its own unique challenges and enemies. To win the game, you must defeat the boss pirate and claim the treasure.
With its fast-paced gameplay and challenging levels, Top Shootout The Pirate Ship is sure to keep you entertained for hours. So what are you waiting for? Grab your weapon and set sail for adventure.
In conclusion, Top Shootout The Pirate Ship is an exciting and addictive game that is perfect for anyone who loves pirate-themed games. With its challenging levels and intense pirate battles, this game is sure to provide hours of entertainment.