Play Frog Rush HTML5 Game Instruction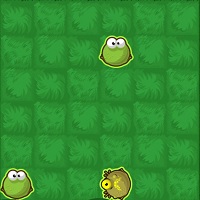 Description
:
Frog Rush is a fun and addictive game that is perfect for anyone who loves challenging games that test their reflexes and hand-eye coordination. With its simple gameplay and challenging levels, this game is sure to provide hours of entertainment. In this game, you play as a frog that must jump from lily pad to lily pad to avoid falling into the water.
To play Frog Rush, simply tap the screen to make your frog jump. The longer you hold down on the screen, the higher your frog will jump. Be careful not to jump too high or too low, or you'll miss the lily pad and fall into the water.
As you progress through the levels, you'll encounter various obstacles, such as floating logs and crocodiles. You'll also need to collect coins to unlock new levels and characters.
Frog Rush can be played on a variety of platforms, including iOS and Android devices. You can also play the game online through your web browser.