Play Traffic Slam 3 HTML5 Game Instruction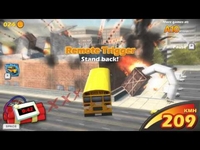 Description
:
Traffic Slam 3 is the third part of the destructive racing game played with the Traffic Slam keyboard. In this game there are no traffic rules, destroying an entire city starts from cars and tanks.
Smash and crash into anything, and more damage means a higher score.
In Traffic Slam 3 will be mining buildings, and once you find the detonator as urban life will be in your hands. The truth is not a long time, because you will take advantage of the right to demolition, and press the sacred button, swept in air car, office, supermarket.
In Traffic Slam 3, your goal is to drive a brand new sports car racing through traffic, causing as much property damage as possible before you crash and burn in a fireball. Spectacular. Do as much damage as you can with your vehicle, where more loss means more points, collecting valuable bonuses. Use the arrow keys to control yourself on the stage and collect coins to spend on power-ups between missions.
Take the coins to turn your vehicle into a destructive machine. After the train has been severely damaged, it can be repaired or bought a new one.
The story of Traffic Slam 3 is complemented by new vehicles. In addition to passenger cars, you can buy: trucks, avtobus, schools, Bigfut, Samolet, Tank.