Play Derby Crash HTML5 Game Instruction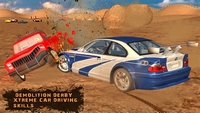 Description
:
Derby Crash is an extremely destructive racing game, where you and your vehicle fight your opponents on the arena, defeating them most spectacularly, by destroying everything.
This is a unique 3D car game with awesome graphics and gameplay inspired by the world of destroyed derbies. The game has a very simple way of playing, your mission in the Derby Crash game is to drive around some challenging maps and perform some stunts and jump on ramps. In this sport, many drivers compete by crashing their cars into each other. The last driver to have a vehicle still in operation wins the opponent. The game allows you to perform amazing stunts by jumping on ramps. It also has ports that can teleport you to other locations in the game. Although the game is easy to play, hitting the opponent's car requires skill and skill. Unlike the usual racing games that only focus on speed and destination, the Derby Crash game will give you more challenges, which is to find ways to destroy opponents and survive for as long as possible. Well, experience this unique racing game to show your bravery and even cruelty with extremely powerful racing cars, on a battlefield full of dust and devastating destruction.
Derby Crash allows gamers to choose 6 American racing cars, can earn money to upgrade and customize the appearance of the vehicles, change the control of the car to suit your preferences. Completing each race will give you certain rewards, remember that each vehicle has its own characteristics and you need to understand how to use them, calmly face all challenges to get the battle. win worthy.
Features of the game Derby Crash
- Destructive racing simulation game
- Many vehicles to choose from
- Diverse racing tracks
- Allow to upgrade and customize vehicles
- Sharp 3D graphics, vivid background sound effects