Play Aztec Escape HTML5 Game Instruction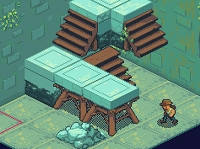 Aztec Escape is one of the most exciting treasure-hunting games.
In the Aztec Escape game, you will follow an adventurer to discover a temple of Aztecs. Your task is to help this guy overcome the traps that are spread everywhere to escape and collect lots of diamonds along the way to purchase power-ups.
Activate the skull key to unlock the door and escape each room. Use the arrow keys to move the explorer around the room and push blocks.
Run as fast as you can. Avoid tree trunks, boulders and ancient ruins. Switch lanes, jump and slide your way to freedom.