Play Colorful Penguins HTML5 Game Instruction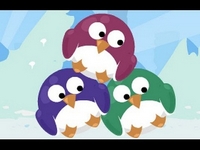 Colorful Penguins – 30 levels in which we have to guide the penguins to the right spot. Use the "mouse" and try it with physics. Get them to their place with as few cuts as possible. Take a look at the order you cut off the ropes. Get the cute animals to the place to uncolor them.
Your goal is to help the colorful penguins get back to their true black and white colors. To do this, get the penguin to touch an ice block of the matching color.
Use your mouse to swipe across to cut rope and ice.