Play Basketball Legends HTML5 Game Instruction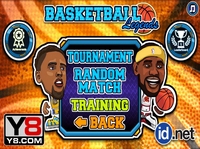 Description
:
Basketball Legends is a popular basketball sport on the internet. You can choose your basketball team, game mode, and participate in the battle.
Your team may consist of one or more individuals. Your main task is to score a lot on the opponent's basket to overcome the score and win the opponent. The person who scores more points and reaches a limit wins. Then we will continue to play with other players.
Play fast matches, tournaments, or play with your friends in a two-player way. Unlock all achievements and save your high achievements in the leaderboards if you achieve very significant scores.
You can proceed, run around the area, steal the opponent's ball and make fierce throws along with the powder into the opponent's basket to win. Each player makes a shot in combination, whoever throws the ball will have an advantage. Another individual can still jerk the ball easily by grabbing or hitting, making others stunned, and making beautiful moves of your own.
After scoring the ball into the basket, you will score a point, and your opponent will burst into tears of despair, and so will you. You will regain your spirits quickly; the score gap can significantly help you win and continue to play against other teams.
In any case, this game has many different variants, you can play alone against the opponent is your computer or your true friend, and the game allows you to play with four players at the same time.
You can play it online or download it to play. If you download it, once you play the game, the game is saved, and once you start playing again, you can continue where you left off.