Play Clickplay Time 3 HTML5 Game Instruction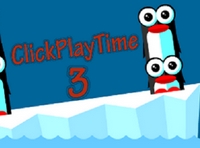 Description
:
Clickplay Time 3 is one of the hottest fun entertainment games, which is an exciting playing field, funny humour. With unique gameplay, beautiful interface, simple gameplay, games suitable for all ages.
Your mission in the Clickplay Time 2 game is to answer the questions raised regarding a variety of diverse and vibrant topics to complete all 20 levels in the least amount of time.
You will face many difficulties, challenges, tons of fresh, colourful puzzles. To overcome all the questions, you need to equip a lot of knowledge in many areas. Solve each problem and click the hidden button.