Play Puzzle Bobble 4 HTML5 Game Instruction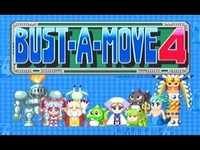 Description
:
Puzzle Bobble 4 is a fun and funny game, it requires meticulousness and accuracy from you. Here the game will give you a lot of surprises that make it hard for you to react acutely. The game requires not so high in playing techniques, gives you an excellent strategy to conquer every level of the game and win. It is an exciting game and gives you perfect comfort moments after a hard and exhausting day. Any longer hesitates, try your hand at the game now.
Puzzle Bobble 4 is a single title from the many arcade games, puzzle games, and shooting games that we offer for this console. If you enjoyed playing this, then you can find similar games in the GBC games category. Puzzle Bobble 4 game is from the various retro games on the site, and there are more games like this, including Pokemon Puzzle League, Bubble Bobble and Puzzle Bobble 2.
The little green dinosaur is back in Puzzle Bobble 4, the fourth instalment of one of the most popular puzzle games in the world. Take control of him as he tries to eliminate coloured bubbles that crowd its airspace. With a shooting bubble machine, the dinosaur is trying to connect three bubbles of one colour to them, and other bubbles, they can be eliminated touching. This time, falling bubbles will look for other bubbles of the same colour to make incredible chain reactions.