Play Crazy Digger HTML5 Game Instruction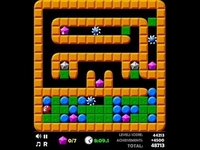 Crazy Digger is a fun retro puzzle arcade game in which you control a cute little digger who wants to collect all of the shiny jewels underground! During each level, you must dig through the rock and hidden landscape to reach the gems.
Use the arrow keys or WASD to move. Collect all of the gems in each level and avoid the enemies. Make sure that you don't accidentally get crushed by falling flowers!