Play Happy Wheels 2 HTML5 Game Instruction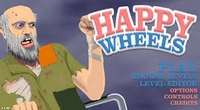 Description
:
Happy Wheels 2 is a game where you choose extravagant vehicles, from a bicycle to a wheelchair, and send them through a chaotic track where the clumsy driver will try to escape mutilation, decapitation, and death desperately, you can also eject the character from the vehicle. Your goal is to complete various challenges, overcome deadly obstacles, and lose as few limbs as possible! Ignore the blood and keep going!
A fierce struggle begins with three different characters in which each one has its vehicle. There will be ten different game levels that will confront you; you can start playing by selecting any of those levels. Your goal is to get your player to the finish line in a kind of way. You can protect your player by passing obstacles carefully.
If your player gets harm more than a certain point, this may cause you to restart the game level. Players control a selection of various, unique characters with their goal being to get to the finish line, activate a trigger that triggers victory, or collect a required amount of tokens while avoiding being splattered across the level by many hazards and obstacles.
Users may create and share their custom scenarios using the expansive level editor, play some of the over 6 million already-existing user-made levels, or take a look at some of the featured levels – the best standards in the game.