Play Duck Life 2 HTML5 Game Instruction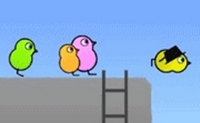 Description
:
Duck Life 2 is the sequel to the popular online driving game, Duck Life Original! Duck Life 2 is a fun game for kids of all ages! Train the duck to become a champion racer so it can regain the farm. Run, swim and fly to become the leader of the flock!
Train your ducklings and travel around the world to become a world champion racer! Earn cash for each race and buy upgrades in the store. Improve your skills to become better and faster duck! Play 15 mini games featuring running, swimming, flying and jumping. Climbing skills are introduced to the series as well. While running, use your arrows to guide the duck and jump. While swimming, use your arrows to move around, jump and dive. Your mission in Duck Life 2 is the same as in the original Duck Life: increase your skills through small games and win all races to become a world champion.
New climbing skills are introduced in this series, so train it to reach your full potential. There is also a level system that limits your maximum level; Increase it by buying upgrade options from the store. The races of the race include many challenges, making sure you have enough skill levels before joining. Become the best racer in Duck Life 2!