Play FireBoy and WaterGirl in The Forest Temple HTML5 Game Instruction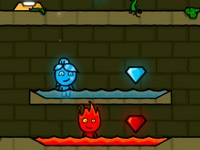 Description
:
Watergirl and fireboy is a game, which many gamers want to experience and are looking for a lot of titles that account for nearly 60 million plays on Big 8 Games. As an action game, 2 red players are male and blue is female, players will experience many levels, but it is easy to see but very difficult to play.
Cool math games Fireboy and Watergirl
Fireboy and Watergirl is made by Oslo Albet, the journey to explore Forest Temple to find diamonds. Can switch between Fireboy & Watergirl and play alone or 2 players. The goal is to escape the mysterious temple safely, so be careful. Note, Fireboy can't touch the water and Watergirl can't touch the fire.
Fireboy and watergirl forest temple
The two fire and water characters have completed many different missions. And now their main task is to decipher the secret temple in Fireboy and watergirl forest temple.
Fireboy and watergirl 1
Your mission when playing fireboy and watergirl 1 is to bring the fire boy and the water girl to the exit at each table. Fire boy and the water girl 1 promote teamwork. You should work well together to be able to pass the levels easily!