Play Fireboy And Watergirl 5 Elements HTML5 Game Instruction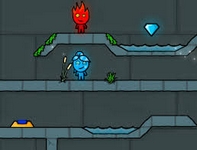 Description
:
Fireboy and Watergirl 5 Elements
Fireboy and Watergirl 5 Elements is part 5 of this exciting puzzle series. This game has unique graphics, suitable for all ages, especially children and families. You can experience this game on your browser, as this is a flash game. In Fireboy and Watergirl 5 Elements, you will continue to control Fireboy and Watergirl and you will play in the Temple Forest map. Forest Temple is a maze with many maps and each map will have different tasks for you.
You have to use your skills to solve puzzles in many different types of temples and take the little boys to the exit door. A lot of interesting challenges are waiting for you but make sure you work together and use the special talents of each character to be able to survive. Have a blast online and good luck with this hilarious epic adventure waiting for you.
You will be able to control 2 characters at the same time but can also play with friends to each control their character. The obstacles in the game are mainly divided into two categories. If it is related to water, then only the girl can enter without being unharmed and can easily overcome. And the fire boy will it is impossible to step foot in and the opposite of obstacles related to fire. It will be really interesting challenges and equally thrilling for you there.
Fireboy and Watergirl 5 Elements game
If there are 2 players, it will be quite simple when each person is in charge of the movement of a character. But if you are alone, you will have to divide two different thoughts, more difficult but more interesting. This attractive Fireboy and Watergirl 5 Elements will bring very opposite emotions to you. Sometimes you will get confused between controlling water and fire together, causing an unintentional game over that is very unfortunate. But enjoy the hot game Fireboy and Watergirl 5 Elements freely.