Play FireBoy and WaterGirl 4 in The Crystal Temple HTML5 Game Instruction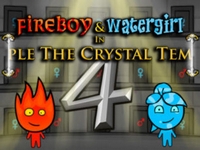 Description
:
Continue the journey of the fire boy and the water girl, this time you will discover the mysterious crystal temple in The Crystal Temple game. Please help the two girls overcome the obstacles in the game to go to the end of the temple to see if there is anything interesting.
Fireboy and watergirl 4
The key to the success of the game is the rhythmic and well-coordinated coordination of the little girl and the fire boy. Depending on each person has unique characteristics that you can use in every obstacle.
Fireboy and watergirl crystal temple
You use the objects in each round to clear the way. And you move the mirror boxes to reflect the light, collect yourself many diamonds. In addition, the last light of the temple gradually appears and awaits your discovery. You will help them complete their aspirations by using clever light, fast to open mysterious doors in the temple. Wish you have a lot of luck in this interesting game.