Play Fireboy And Watergirl New Adventure HTML5 Game Instruction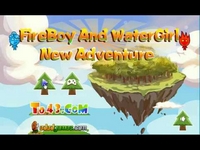 Description
:
Fireboy and Watergirl New Adventure is the sequel to the excellent flash game in which the main characters are fire boy and water girl. Explore completely new levels, plan your escape and try to find an exit, avoid obstacles and jump over traps. You must help each other to escape safely — play solo with both hands or in co-op mode with your friends. You can turn yourself into a ball and roll instead of walking!
FireBoy and WaterGirl are on a whole new adventure. This game is located in a new area. You will help 2 heroes to overcome a series of challenges. Working together is key because some platforms can only be used by FireBoy or WaterGirl. You can change the shape into a ball to cross small paths. To complete each level of Fireboy and Watergirl New Adventure, you must control the fire boy to eat the diamonds with fire, whereas the water girl eats the diamonds with water, do not let the fire boy go into the water, and vice versa.
Fireboy and Watergirl New Adventure is the version that is played by many players and experienced the most. Too impressed with the image quality that publishers can do. Seamless story with extremely attractive missions that attract players who want to experience forever. With the accompanying effects every time you make a beautiful move… You can work together and complete all the levels in Fireboy and Watergirl New Adventure.